It is becoming something of a Butler / Burgess tradition to spend the last weekend of the school holidays camping together. It's a really lovely way to eek out the last days of summer and put all thoughts of "back to school" to the back of our minds for a little while longer. This time we booked the Catgill Farm Campsite near Bolton Abbey.
The more we campsites we explore, the more we are able to narrow down our priorities and having camped at Crowden Campsite earlier in the month, we realised that either a play area or a space for ball games is pretty high on the list. Along with that, we are always keen to find a campsite that allows campfires – especially later in the summer when the days are a little shorter and the nights colder.
Catgill Farm Campsite is near Skipton, North Yorkshire and whilst not too far in terms of miles (50 miles), it's about 1.5hrs drive from home. We were happy to drive a bit further this time as both families were able to set off on Friday lunch time so we knew we had plenty of time to travel over and get set up comfortably in day light (as opposed to the downpours and darkness of our trip to Crowden last month!)
Pitching a tent in the wind is tricky
Whilst the weather wasn't too bad on Friday afternoon, the wind did cause us a few problems. Catgill Farm Campsite is on a hill and fairly exposed so it was really very windy – we ended up damaging our ground sheet when a gust of wind whipped under it and ripped it from the tent pegs! Thankfully we managed to get everything else up without too much hassle but wind was definitely a theme for our weekend at Catgill.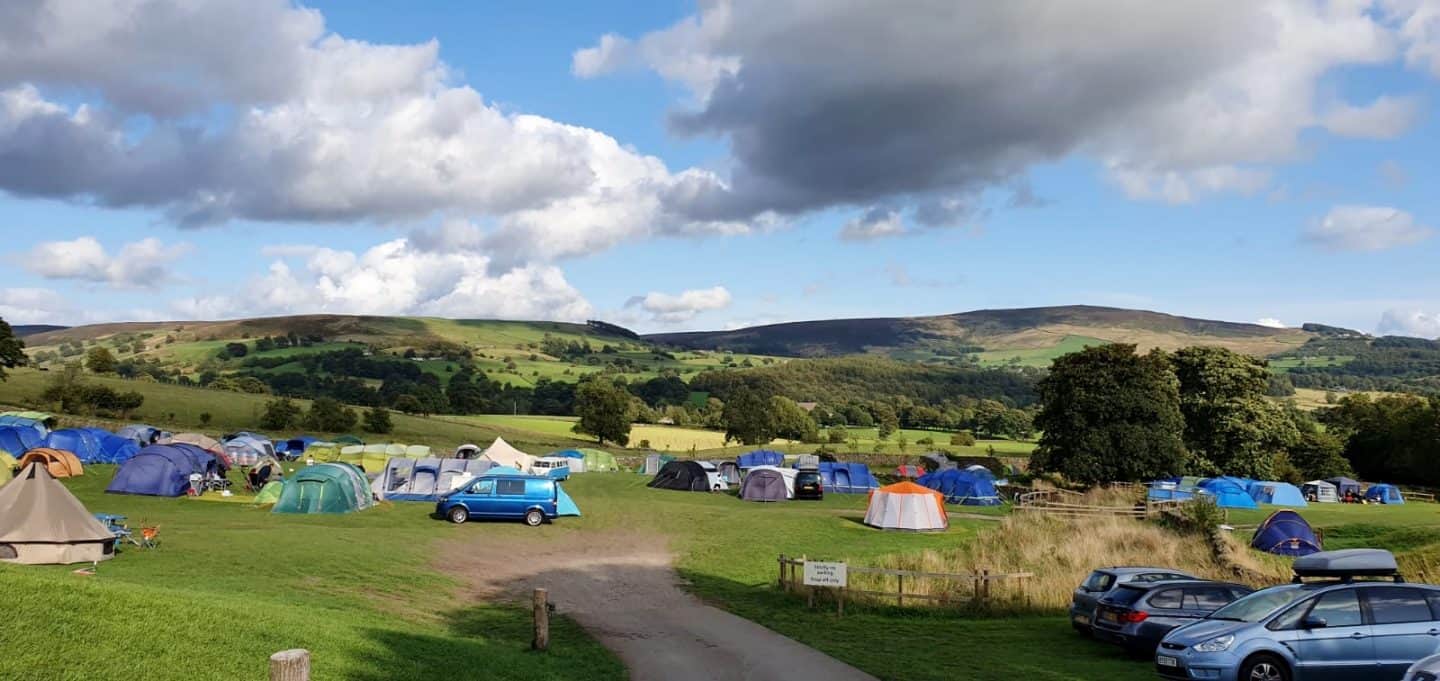 Catgill campsite offers electrical hook ups, standard grass pitches and some fabulous glamping options!
Catgill is easily the largest campsite we have stayed at so far. The main field has a number of electrical hook ups whereas the second field is standard pitch only. Obviously the pitches with electrical hook ups are assigned but the rest of the fields are pretty much a free for all – which is great when you are camping in a groups as it means you can choose your pitch and set up your own space for the weekend. (If you book electrical hook ups and want to pitch with friends, you need to do this under one booking so you will automatically be assigned pitches next to each other).
As well as two large fields for camping, there are two bell tents and three glamping pods – each has their own private wood-fired hot tub and was set up the hill, away from the main campsite – the twinkly path looked very inviting!
Catgill Farm campsite is definitely not a flat site
When we arrived on Friday afternoon, the second field was already quite busy but Neil managed to find a space big enough for both of our large tents – the camping fields are surprisingly hilly so you do need to pitch carefully according to the hill. Despite finding the flattest space we could and angling the tent to work with the slopes, Dave and I still found we had issues with our bed and I struggled to stay on my own side of the air bed!
Cars are parked away from the main campsite
Catgill allows you to drive your car onto the field to pitch your tent but then asks you to move it to their car park out of the way – this obviously makes the site safer for children, and cynically, means they can fit more tents onto the field! We noticed that there were a few VW style camper vans on the site but it isn't suitable for caravans or motor homes.

Having the cars parked separately was actually quite nice, but it did mean things got a bit crazy on Sunday morning when everyone was trying to pack up and leave at the same time!
Quiet nights at Catgill campsite
Despite the fact that Catgill was really busy (and hosting lots of groups) – we found it to still be a fairly chilled and quiet site. Mostly, everyone was really respectful of the 10.30pm noise curfew – there was a 24 hour helpline to call if you had any problems with noisy neighbours but there was also a patrol who came round at about 11pm to make sure everyone was keeping the noise down.
Dogs are welcome, free of charge
We all commented that we had never seen so many dogs on a campsite as we did at Catgill Farm campsite – however, these were all kept on leads and were really well behaved bar a bit of occasional barking which I think was to be expected. They certainly didn't disturb us.
Campfires are go!
As I mentioned earlier, we do love a campfire and always try to book at a site which allows this. At Catgill you can hire a fire pit with kindling and wood – this cost us £20 for the two nights (plus a £10 deposit). Additional wood bags cost £7.00. Barbecues are also available to hire.
The facilities at Catgill campsite are clean and well maintained.
The facilities at Catgill are clean and well maintained – however we all felt that on such a large and popular site, a totally of just eight toilets and showers didn't really feel enough (four for the men and four for the women). We didn't have to wait long but there were occasional queues for showers and toilets. The showers were warm and the hair dryer free to use. Alongside the hairdryer there were a number of sockets which people tended to use for phone charging but you could obviously plug your straighteners in there if you felt the need (this is definitely not how we roll when we're camping though!)
There is a small campsite shop selling basics, but the jewel in the crown seemed to be the coffee shop, which was open for a couple of hours each morning selling takeaway hot drinks and croissants – this was really popular and saw queues each day. We didn't test it out as we had everything we needed to make hot drinks and bacon butties at our tent.
If you're looking for dinner out …
When Mich and Neil booked the campsite, they also made a booking for dinner at Billy Bob's Parlour down the road – this American diner and ice cream parlour has a cracking outdoor play area (though this is for under 10s only!) and serves up a wide range of burgers, nachos and hot dogs as well as delicious drinks and ice cream sundaes.
The local area is stunning
The views from the campsite are incredible – across dry stone walls and over the dales. Bolton Abbey is just a short downhill walk from the campsite and well worth a wander. I can't take credit for these photos as I actually fell asleep on Saturday afternoon and the guys left me to it and went to explore – so these photos of Bolton Abbey are all Dave's!
As well as Bolton Abbey, there is Hesketh Farm Park just up the road and the campsite itself has a small woodland area and stream which kept our gang occupied for ages!
Would we come back to Catgill?
Catgill has been featured in an article in the Telegraph claiming it to be one of the "coolest" campsites in Britain – this I can't quite see. I mean, the views are stunning and there's plenty to do nearby but I'm not sure what makes it "cool" . . . it's definitely a very popular campsite at the moment and the atmosphere on the site is lovely so perhaps it's all about the people who choose to go there!
Catgill Farm is a fairly expensive site (it cost us £70 for two nights for a family of five), but I don't think it especially warrants the higher price compared to other sites we've been to in terms of facilities – though, as I said, the views are amazing. I feel like we've ticked Catgill off our list, we've done it, we enjoyed it, but it's not one we'd rush to return to on annual basis.
Where next?
That's our camping season done for the year – I'm sad to have packed the tent away for another summer but it's been a good one, we've done "Mac Fest" in Kendal (I will edit that video soon!), Y Not Festival in Derbyshire, Crowden in Debryshire and Catgill Farm in North Yorkshire.
I've written a list of things we need to replace or invest in ahead of our first trip next year – but I don't know where that will be yet!